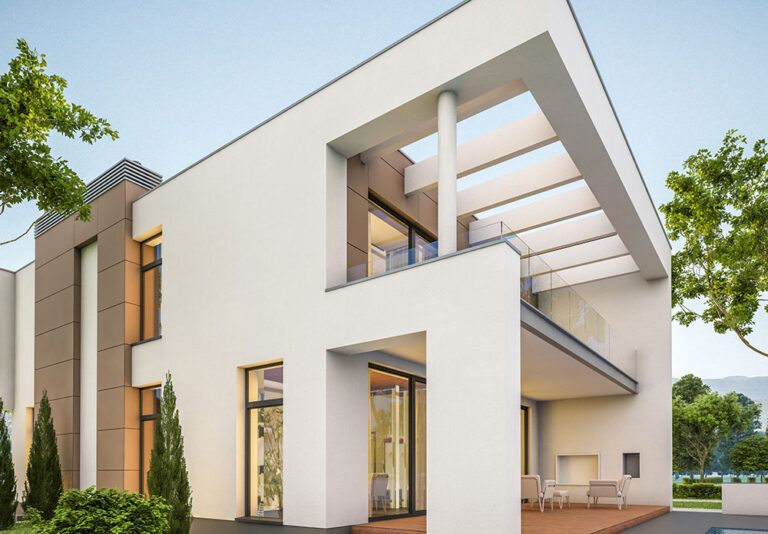 the Kaizen way
At Kaizen Paint we believe that everybody deserves a beautiful home they can be proud of. Our team deliver a best-in class experience to ensure our customers can make their spaces enjoyable and comfortable for stress-free living.
Our creative and colour experts advise on design possibilities to guide and inspire the right colour and product choices providing all the help customers need to realise their dream home.
trends and colours
The colours we surround ourselves with greatly influence our well-being and happiness. This is why we created the Kaizen Inspired Colour System. It offers a comprehensive palette of 1500 meticulously selected colours.
Each year our experts search the globe to bring our customers the latest trends and colours to help them transform their living spaces.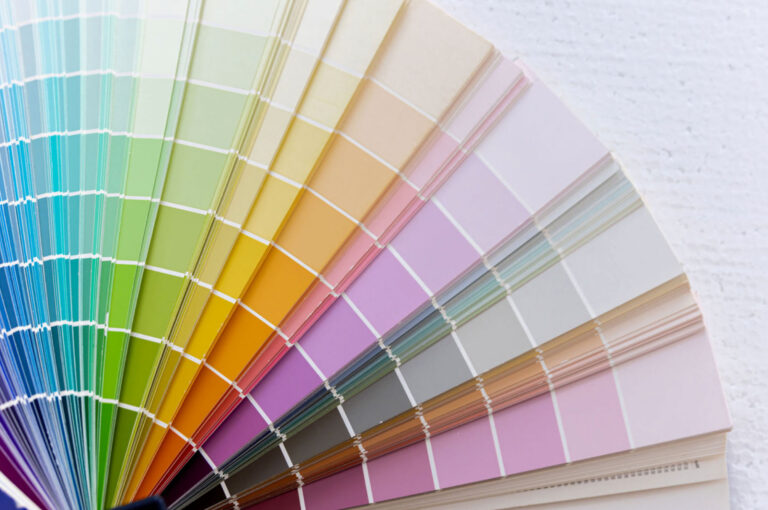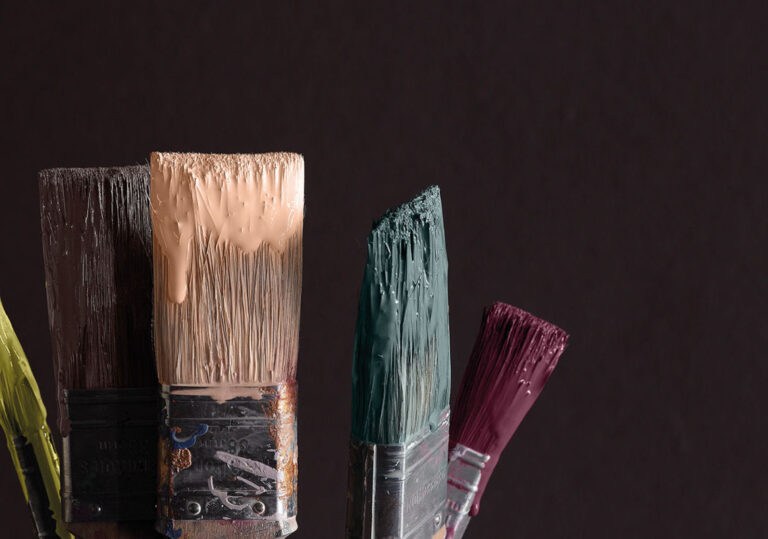 our products
We understand the power of colour and the importance of paint to transform and create visually stunning spaces. Our extensive range of innovative products and solutions are designed to provide excellent coverage, stain and scratch resistance and a durable, superior finish for any surface.
Thinking beyond colour and drawing on local market needs we have pioneered many additional product benefits including; anti-rusting, anti-microbial, fungus resistance and odourless.
our brands

NEO is paint made simple. It is a brand which puts our customers decorating ideas and needs at the heart of everything we do. Flawless high-grade paints in a range of on-point colours—decorating doesn't come much easier or planet friendly.
---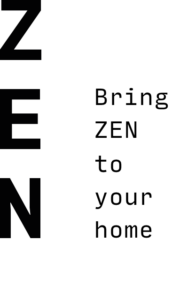 ZEN is designed so that our customers can make their walls smile. It is a brand which offers all the products our customers need to decorate their space and bring ZEN to their homes.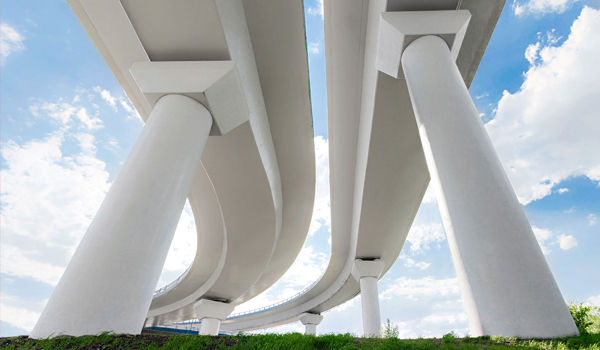 projects
From luxurious residential developments to shopping malls, hospitals and transport infrastructure— our portfolio of architectural coatings has our professional and commercial customers covered.
Kaizen Paint Pakistan has been the partner of choice on some outstanding projects, which include the Orange Line Metro (Lahore); Askari 11 (Lahore); Buch Hospital (Multan); Hayat Kimiya (Faisalabad); Omer Hospital (Lahore); Urban Tower (Karachi) and many more.
products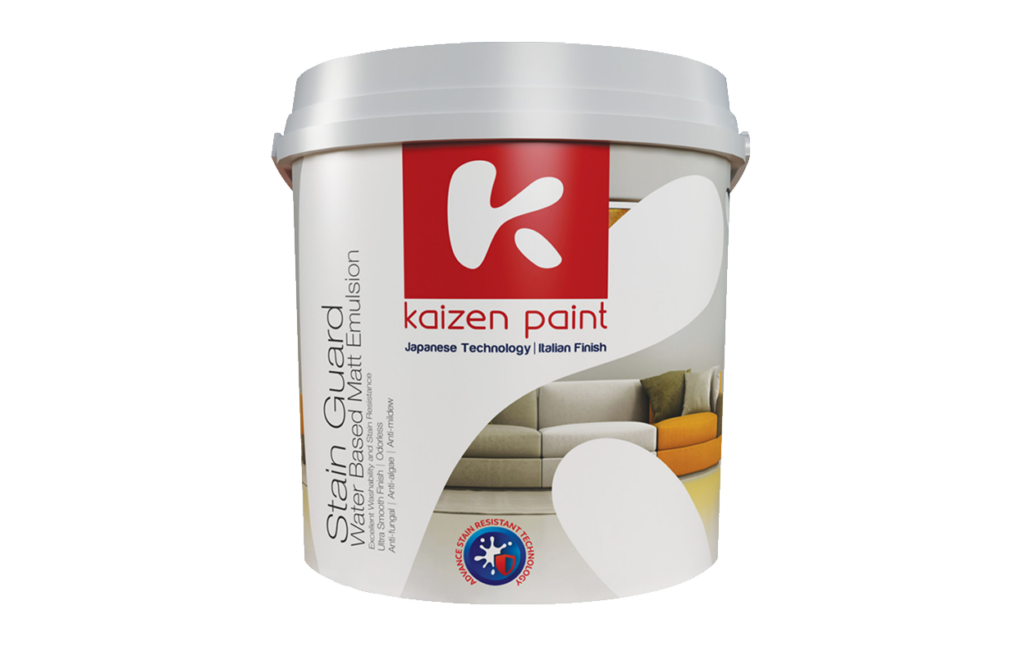 Water-Based Silk Emulsion

Kaizen Stain Guard is a highly washable, fungus, and mould-resistant water-based emulsion providing a silk-like finish. It is perfect for all kinds of buildings (from homes to shopping malls and schools) where stain resistance is a priority.

It prevents tough stains like coffee, tea, ketchup from penetrating into the coating. And dries quickly, allowing the paint job to complete in a single day. Due to its easy maintenance and longevity, the consumer does not need to repaint so often.

Coverage (Spread rate by brush): 16-18 m2 per liter per coat

Application: Brush, Roller, or Sprayer

Available Sizes: 1 liter, 4 liters & 16 liters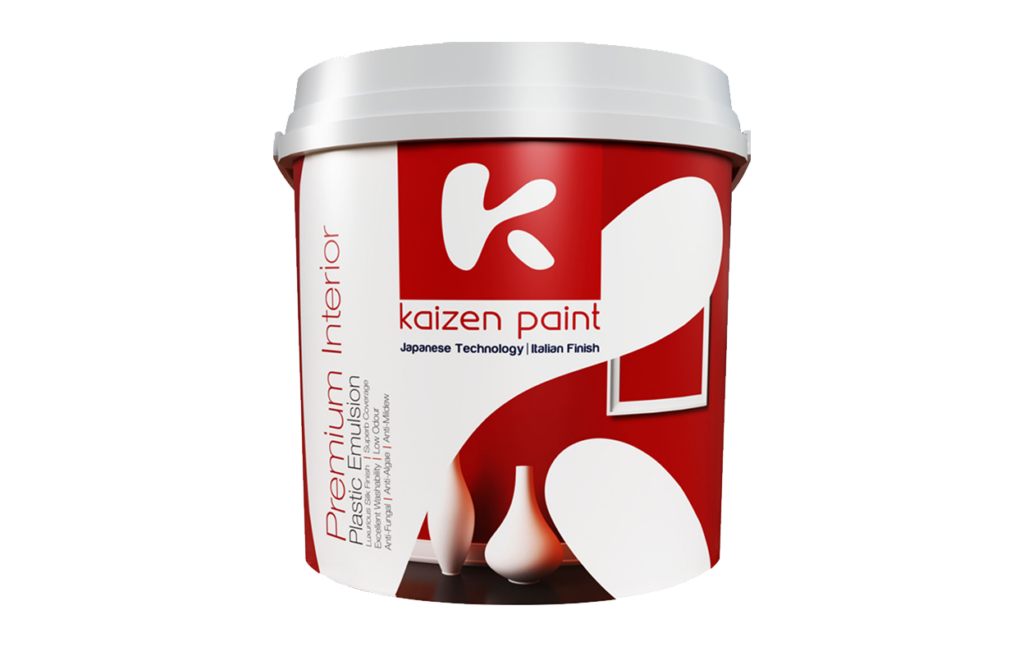 Plastic Emulsion

Kaizen Premium Interior Plastic Emulsion is a 100% acrylic, water-based paint with anti-fungal properties suitable for application on interior masonry surfaces. It is an extremely durable coating and gives walls a silky-smooth finish. Ease of application and hassle-free clean-up makes it the customer's preferred choice.

Coverage (Spread rate by brush): 16-18 m2 per liter per coat

Application: Brush, Roller, or Sprayer

Available Sizes: 1 liter, 4 liters & 16 liters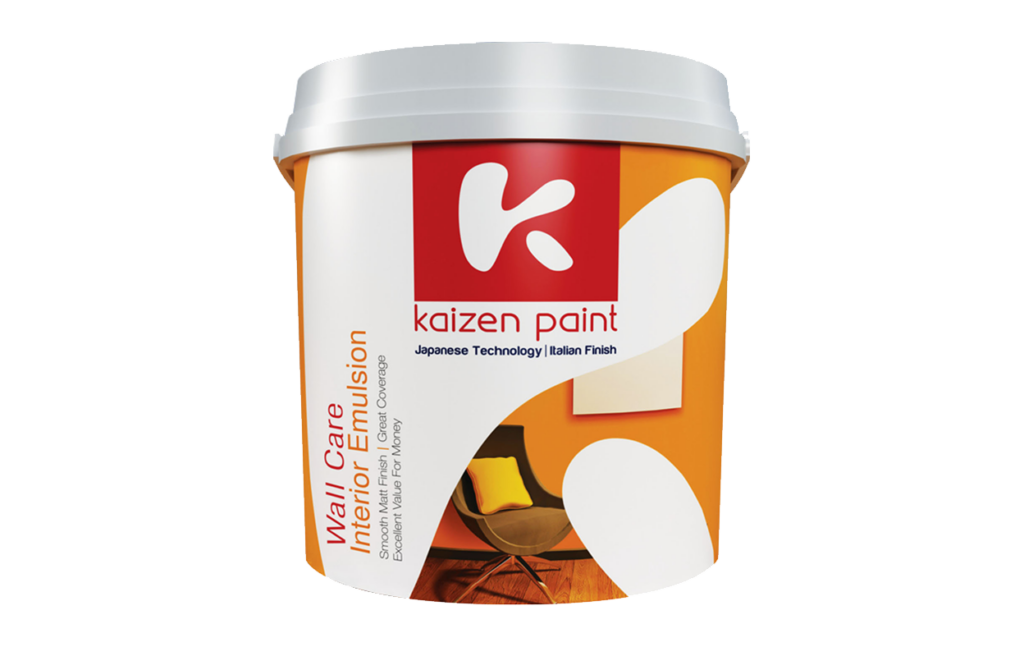 Semi-Plastic

Kaizen Wall Care Interior Emulsion provides excellent coverage and a smooth matt finish to walls and ceilings. It can tolerate the levels of atmospheric humidity present in a typical interior environment— perfect for consumers who want to balance good quality and value.

Coverage: 14-16 m2 per liter per coat

Application: Brush, Roller, or Sprayer

Available Sizes: 0.91 liters, 3.64 liters & 14.56 liters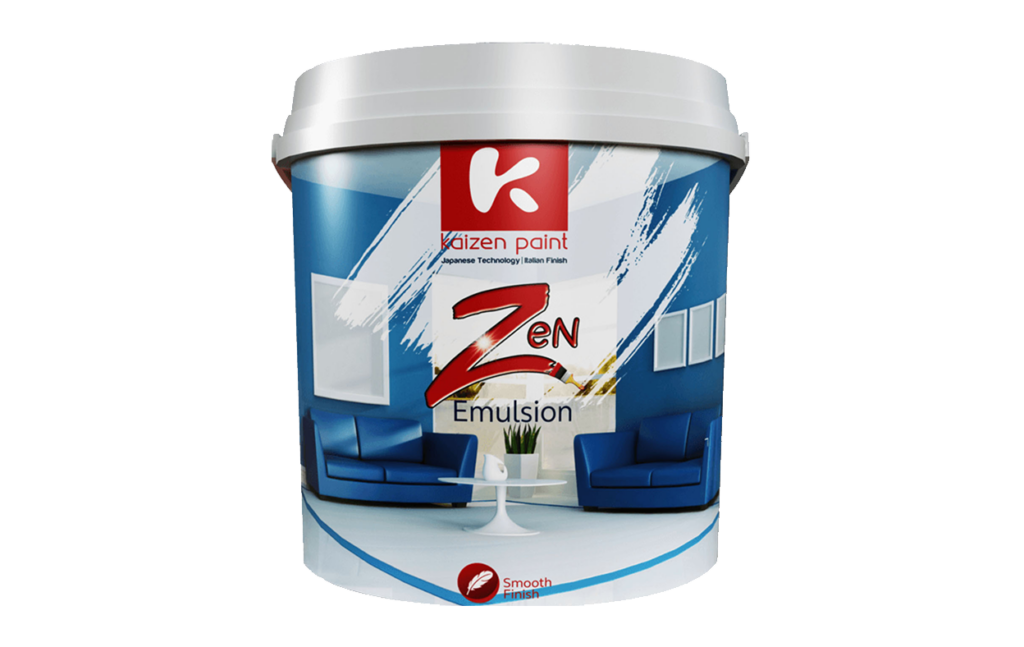 Matt Finish

ZEN Emulsion is for interior use including surfaces which do not require frequent cleaning. It has been specially developed to balance quality with affordability.

Coverage (Spread rate by brush): 9-11 m2 per kg per coat

Application: Brush, Roller and Sprayer

Available Sizes: 6kg & 24kg
Exterior Masonry

Kaizen Premium Exterior Emulsion is a 100% acrylic-based emulsion paint with anti-fungal properties - designed for new or previously painted masonry surfaces. Proven resistance to weathering and colour retention makes it perfect for protection and decoration. It provides a long-lasting finish for all exterior masonry surfaces. For example, brickwork, plaster, and cement rendering.

Coverage (Spread rate by brush): 15-17 m2 per liter per coat

Application: Brush, Roller, or Sprayer

Available Sizes: 4 liters & 16 liters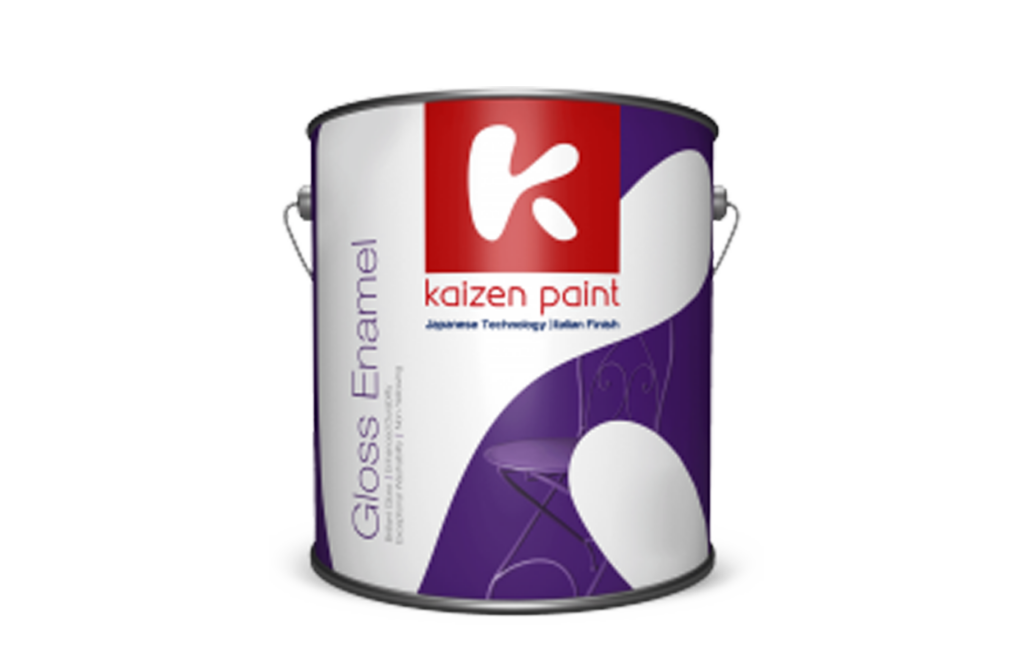 Solvent-Based Enamel

Kaizen Gloss Enamel is a superior quality multi-purpose product, providing a durable, glossy, and hard finish for painting both metal and wood. It is easy to maintain. Perfect for busy use surface areas.

Coverage (Spread rate by brush): 10-14 m2 per liter per coat

Application: Brush, Roller or Sprayer

Available Sizes: 0.91 liters & 3.64 liters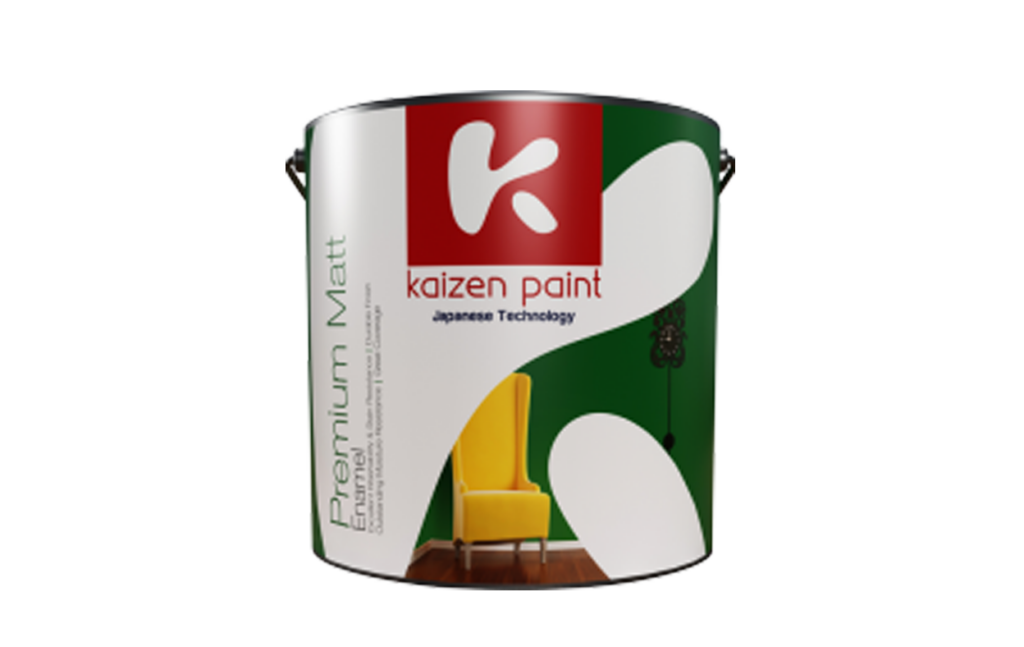 Solvent-Based Enamel

Kaizen Premium Matt Enamel is a superior quality alkyd resin, solvent-based enamel with an equally superior matt finish—high colour definition and resistance to moisture, stains, and water. It is suitable for use on all types of interior and exterior masonry surfaces.

Coverage (Spread rate by brush): 15-17 m2 per liter per coat

Application: Brush, Roller or Spray

Available Sizes: 0.91 liters & 3.64 liters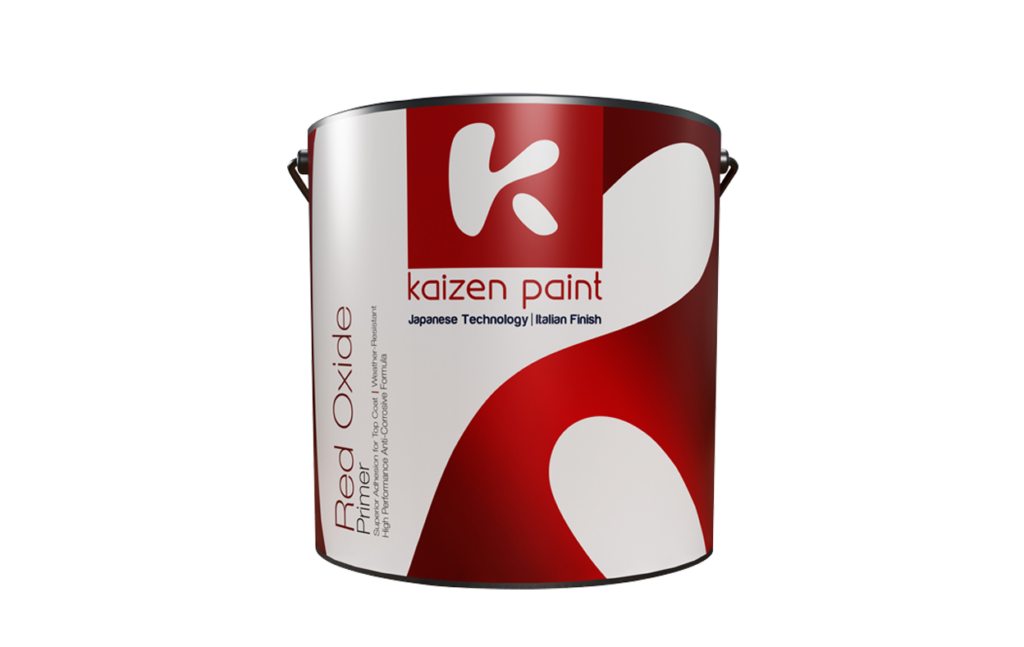 Kaizen Red Oxide Primer is a solvent-based, single component, anti-corrosive primer for ferrous and non-ferrous metals including steel, zinc, and galvanised iron. It is used to protect steel after fabrication when blasting is not feasible and protects iron and steel surfaces from corrosion in mild conditions. Suitable for both interior and exterior use.

Coverage (Spread rate by brush): 13-15 m2 per liter per coat

Application: Brush or Sprayer

Available Sizes: 0.91 liters & 3.64 liters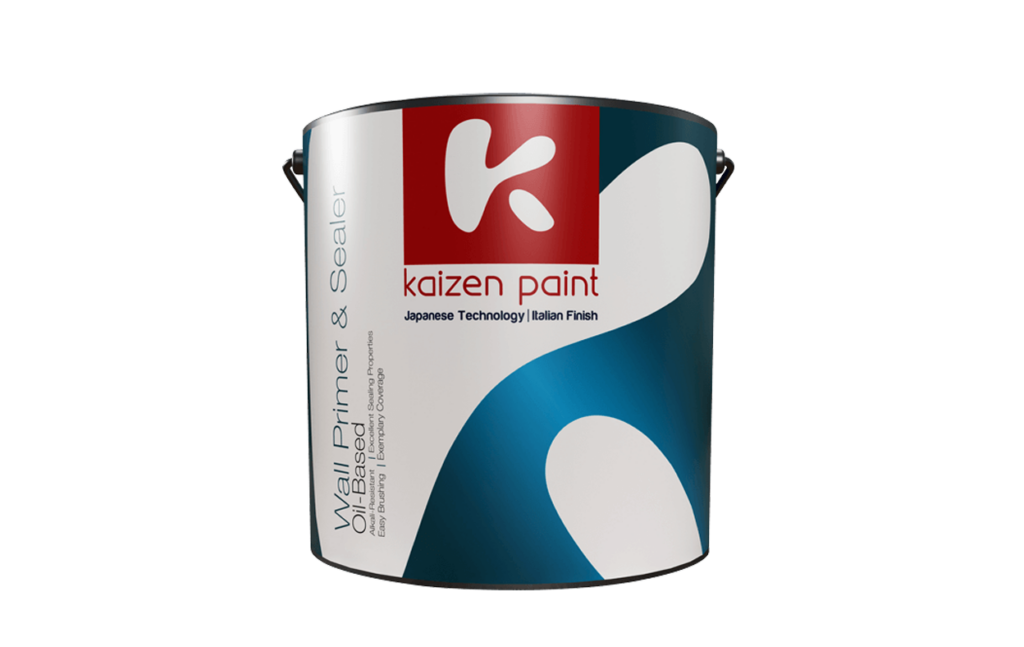 Kaizen Oil-Based Wall Primer & Sealer is a solvent-based primer, providing excellent bonding between the surface and topcoat. It is ideal for surfaces which experience frequent and heavy contact.
If applying water-based paint to existing oil-based paint, Kaizen Oil-Based Wall Primer & Sealer is recommended.

Coverage: 12-14 m2 per liter per coat

Application: Brush, Roller or Sprayer

Available Sizes: 3.64 liters & 14.56 liters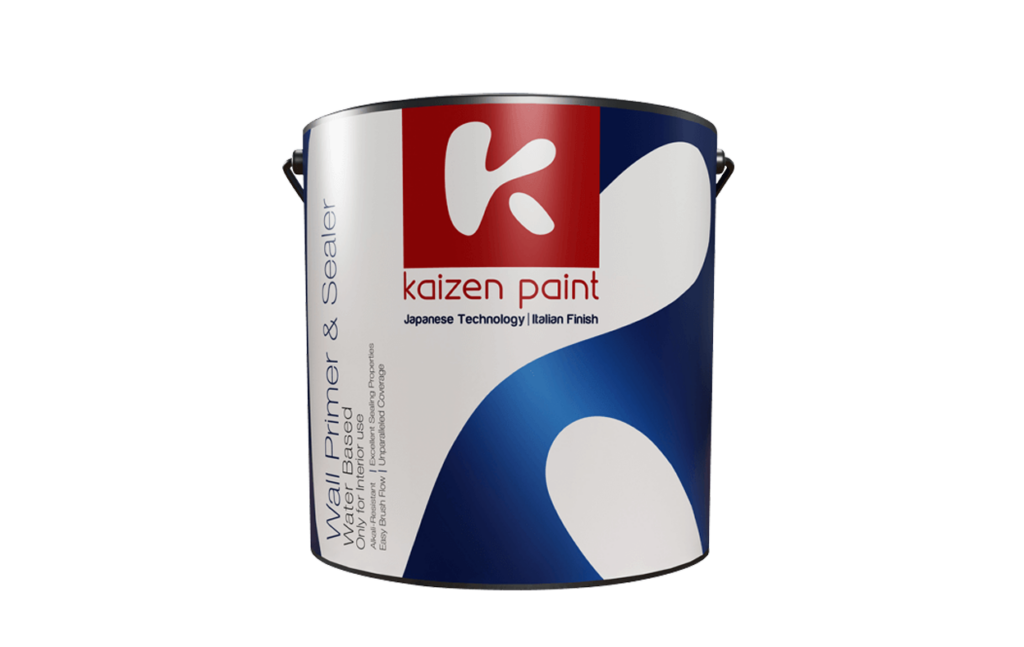 Kaizen Water-Based Wall Primer & Sealer is an alkali-resistant primer for masonry surfaces, suitable for both interior and exterior masonry surfaces. It is used to seal the surface and provides good adhesion for the topcoat. Only one quick drying coat is needed to seal the surface, making this product very convenient to use. Multiple coats may also be applied if preferred. Recommended for large paint jobs where a swift application is required.

Coverage (Spread rate by brush): 16-18 m2 per liter per coat

Application: Brush, Roller, or Sprayer

Available Sizes: 4 liters & 16 liters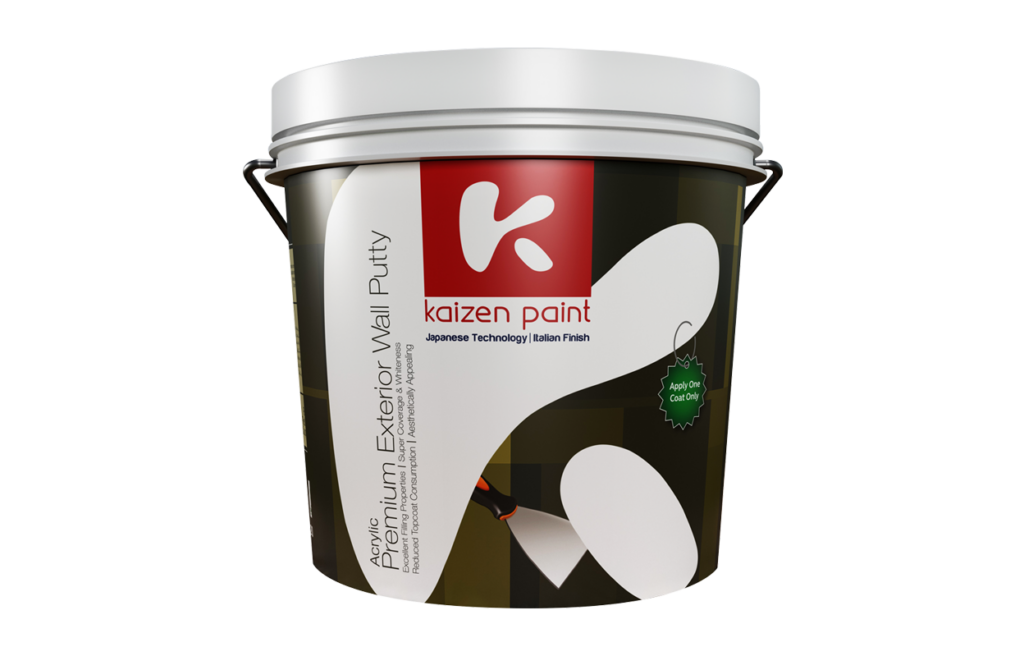 Acrylic-Based

Kaizen Premium Exterior Wall Putty is a 100% acrylic-based ready-to-use water-based filler that is especially designed to be used on exterior masonry surfaces. Its unique engineering and a blend of coarse pigment particles with pure acrylic allow it to withstand extreme weather conditions.

It is recommended to only apply one thin coat of Kaizen Exterior Wall Putty before applying the topcoat.

Coverage (Spread rate by brush): 4-5 m2 per kg (Finish)

Application: Putty Applicator

Available Sizes: 20kg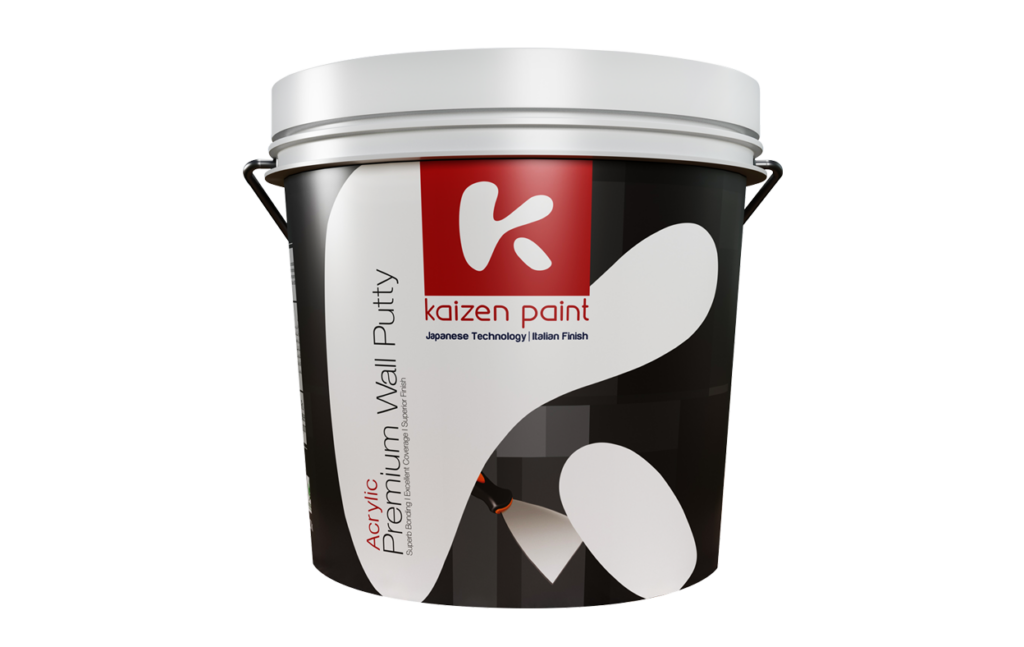 Kaizen Premium Wall Putty is a high-grade acrylic-based ready-to-use filler offering superb whiteness, coverage, and filling properties. It provides a wonderfully smooth base for topcoats. High pigmentation and thixotropic properties make it ideal for all types of interior masonry surfaces. Not recommended for exterior use.

Coverage: 5-6 m2 per kg per coat

Application: Putty Applicator

Available Sizes: 20kg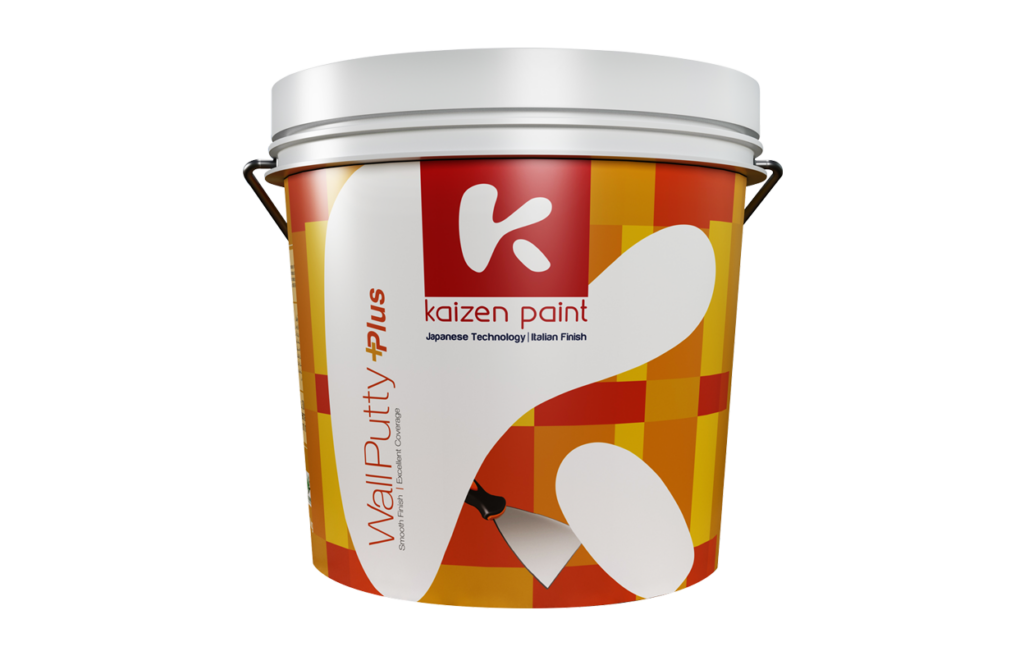 Kaizen Wall Putty Plus is used to create a smooth surface for interior walls and ceilings prior to application of a topcoat. It is a ready-to-use filler with easy to apply and quick-drying properties. Two coats are enough to prepare the surface, but an extra coat may be applied for an extra smooth finish.

Coverage: 3-4 m2 per kg per finish

Application: Putty Applicator

Available Sizes: 5kg & 20kg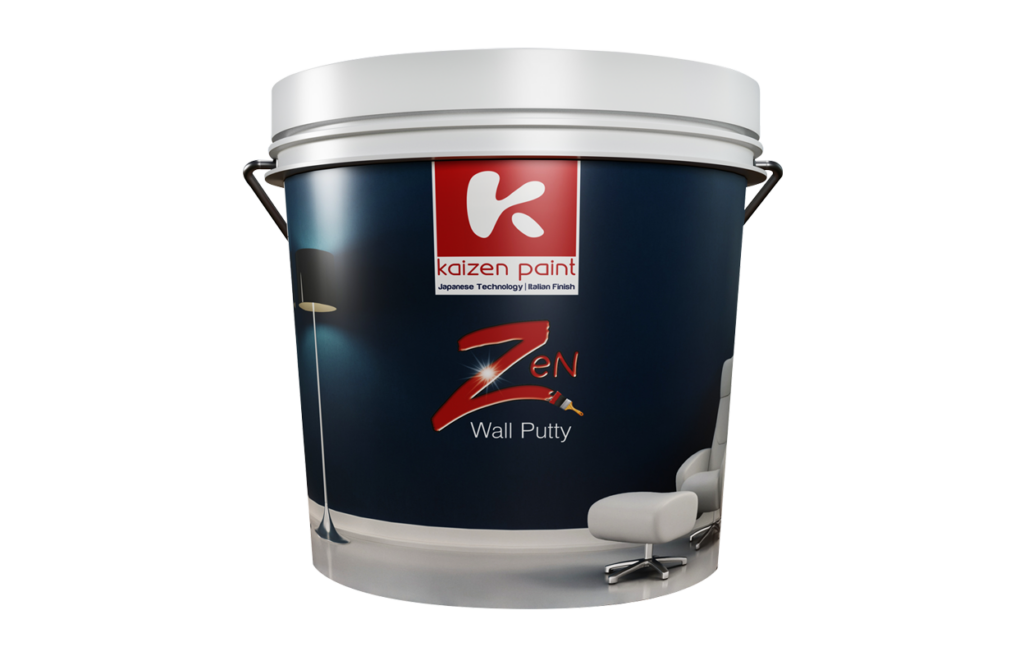 Kaizen Zen Wall Putty is a cost-effective wall filler with excellent coverage and application properties. It provides a smooth base for the application of all Kaizen Architectural Paints. Recommended for interior use only.

Coverage: 3-4 m2 per kg per finish

Application: Putty Applicator

Available Sizes: 18kg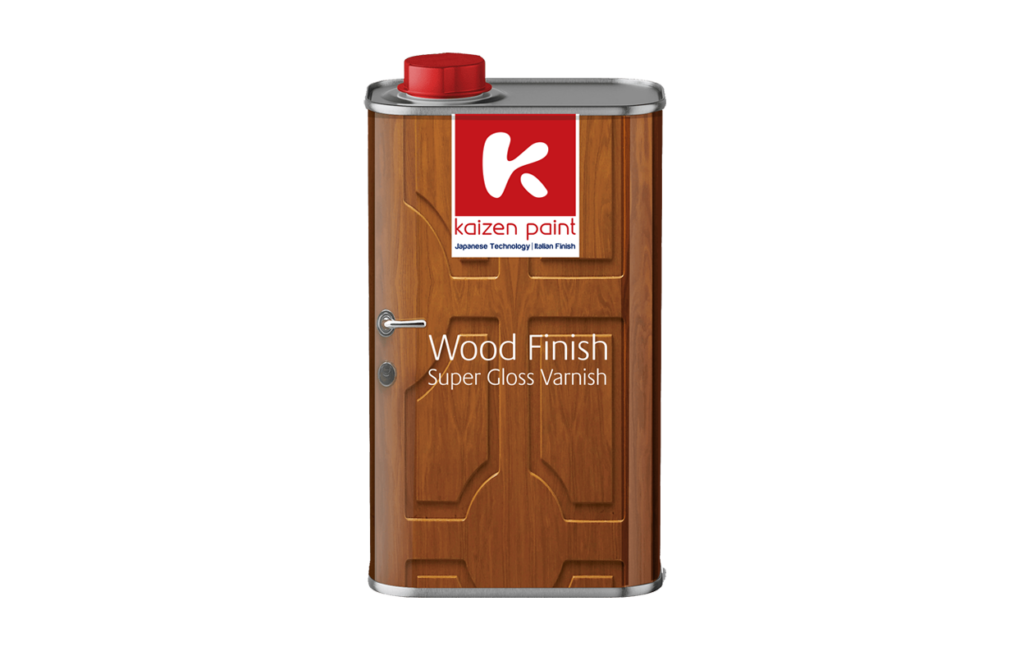 surface. Typical uses of Kaizen Clear Varnish include panelling, cane, wood furniture, windows, doors, and wooden partitions.

Coverage (Spread rate by brush): 13-15 m2 per liter per coat

Application: Brush or Sprayer

Available Sizes: 0.75 liters & 3 liters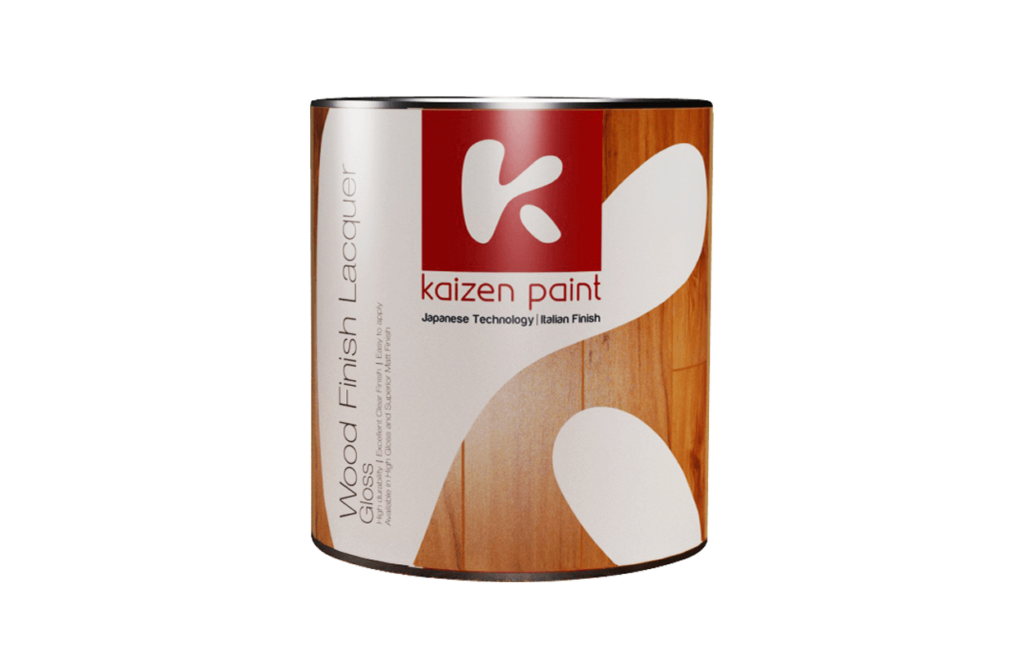 Kaizen Wood Finish Lacquer is a multi-purpose product giving the substrate a hard, durable, and shiny finish. Used for interior masonry surfaces and to paint metal and wood. Due to its tough film it is easy to clean and maintain—ideal for frequent contact areas. It is also available in a Matt and Gloss Finish.

Coverage: 13-15 m2 per liter per coat

Application: Spray

Available Sizes: 0.91 liters & 3.64 liters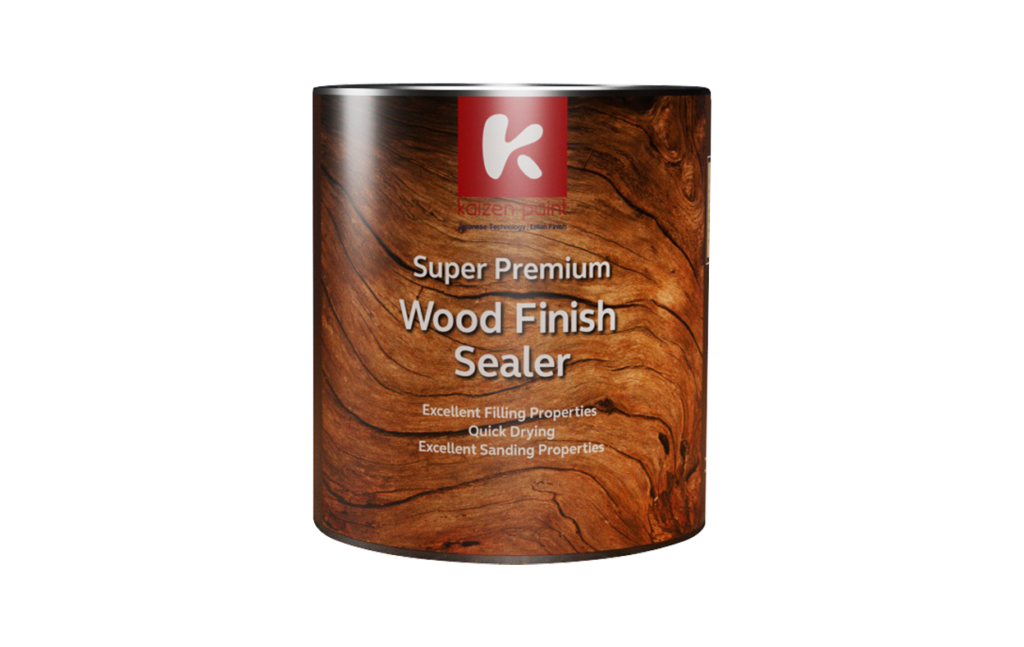 Kaizen Wood Finish Sealer is a nitrocellulose (NC) based premium quality sealer for use on quality woodwork and wooden furniture. By penetrating the pores in the wood it prevents water (and other substance) absorption and damage. It also provides a good base for topcoats and aids in the final finish.

Coverage (Spread rate by brush): 12-14 m2 per liter per coat

Application: Sprayer

Available Sizes: 0.91 liters & 3.64 liters